A 14-Year-Old Just Schooled The 'Financial Times' in Gender Equality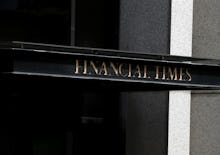 A letter one Financial Times reader wrote in response to a sexist headline the paper ran is going viral for the best kind of reason: The feminist badass who wrote it is only 14 years old.
Anna Schleiter Nielsen, from Oxford, United Kingdom, was apparently incensed by an article the paper published April 20 under the headline "Millennial Mums Going Gaga For Organics Spark J&J Rethink."
In a response letter to the editor, Nielsen politely dragged the paper for its regressive attitudes toward parenting.
"Surely it is not only mums who are concerned about baby care products, but also fathers, who might be offended that they are not mentioned," she wrote. "It is 2016 and parenting is generally regarded as a shared responsibility." 
Nielsen concluded her letter by suggesting that, you know what, maybe it's actually just time for the Financial Times to retool its entire approach to journalism.
"It is disappointing that you are reinforcing the stereotype that it is a woman's job to look after the children," she wrote. "Could I suggest that you bring you editorial policy up to date?"
While the Financial Times retreats to lick its wounds, it's important that we all take the time to remember that you're never too young to destroy the patriarchy and legacy media in one fell swoop.
Read more: The 9 Biggest Feminist Victories in 2015