Prince's Music Is Incredibly Hard to Find After His Death — And That's Just What He Wanted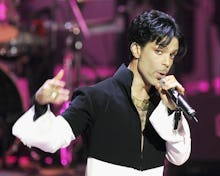 In the wake of Prince's death Thursday, many fans of the legendary pop icon flocked to the internet to find his music — but they probably came up empty-handed. Prince's music, the result of a decades-long career, isn't available on typical streaming sites like Spotify or Apple Music, and that's exactly how Prince wanted it.
Read more: Prince Paved the Way for These Gender-Bending Artists
Prince was notoriously protective of his independence as an artist. Years before Taylor Swift took a stand against Spotify, Prince vocally advocated for the rights of musicians to control where their music went. In the early '90s, Prince clashed with Warner Bros, his record label at the time, over his contract. "A prolific songwriter, he wanted to release material as soon as it was ready — he had 500 unreleased songs in his famous studio vault. But Warner Bros refused, believing it would saturate the market and dilute demand for the artist's music," the BBC reports.
As an act of protest, Prince changed his name to his now famous "love symbol," which was impossible to pronounce — hence the rather clunky moniker "the artist formerly known as Prince" — and performed with the word "Slave" written on his face.
Prince explained his decision to shed his given name in a press release, saying "Warner Bros took the name, trademarked it, and used it as the main marketing tool to promote all of the music I wrote ... The company owns the name Prince and all related music marketed under Prince. I became merely a pawn used to produce more money for Warner Bros," reports the BBC.
Later in his career, Prince seemed to see the advent of digital streaming services as both a continuation of the music industry's exploitation of artists and an opportunity for more complete control over his work. In 2015, he removed his music from streaming sites, reports Rolling Stone, before announcing that he would release HitNRun — which would be his final album — exclusively on Tidal and not through a record label.
"Once we have our own resources, we can provide what we need for ourselves," Prince said in announcing his choice to stream his album exclusively on Tidal, reported Rolling Stone. "Jay-Z spent $100 million of his own money to build his own service. We have to show support for artists who are trying to own things for themselves."