Mayor of London Gets Racist: "Part-Kenyan" Obama May Have "Ancestral Dislike" of Britain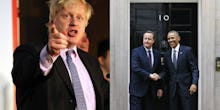 London Mayor Boris Johnson — the likely successor to British Prime Minister David Cameron as leader of the Conservative Party — has addressed the idea that "part-Kenyan" United States President Barack Obama has an "ancestral dislike" of Britain... because, ya know, colonialism. 
And now Johnson is being called out for racism.
The mayor's comments came in an op-ed for the Sun — a response to Obama's visit to the United Kingdom for the queen's 90th birthday, during which he plead with the nation not to withdraw from the European Union. 
Read more: Three Charts Show Just How Much the Racial Views of Young Liberals Have Changed
Shadow chancellor and Labour Party Member of Parliament John McDonnell condemned Johnson's comments on Twitter, calling them an "example of dog whistle racism."
Johnson began his piece with an anecdote about an item that allegedly vanished from the White House immediately after Obama took office. "It was a bust of Winston Churchill, the great British wartime leader. It was a fine goggle-eyed object, done by the brilliant sculptor Jacob Epstein, and it had sat there for almost 10 years," he wrote for the Sun. "But on day one of the Obama administration it was returned, without ceremony, to the British embassy in Washington."
"Some said it was a snub to Britain," he added, with characteristic flare. "Some said it was a symbol of the part-Kenyan president's ancestral dislike of the British empire — of which Churchill had been such a fervent defender."
However, according to the Independent, the White House declared this rumor patently untrue in 2012, saying in a statement, "This is 100% false. The bust still in the White House. In the Residence. Outside the Treaty Room." Another White House statement later clarified the bust in question had been removed, but replaced with another bust of Churchill. 
Many of the Twitterati shared McDonnell's sentiment, making their disapproval of Johnson's comments well-known. 
As @BaracksBackers points out, Johnson's attempt to rally opposition to the president turned out to be a bust.