Prince's Unreleased Music Might Be Some of His Best, According to the Purple One Himself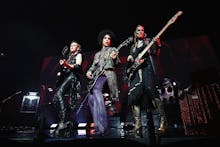 Prince didn't give many interviews in the 57 years he was on this planet. When he did deign to speak with press, he blessed readers with mystical wisdom, profound statements on identity and artistry and whole lot of glorious shade.
So it was a joy to see that Friday, the Rolling Stone published one more Prince interview they had been holding from 2014. However, few are likely ready to really grasp the magnitude of what it contains. In it, Prince reveals he has vaults upon vaults of unreleased music, and it's not just any run-of-the-mill posthumous stuff — it's some of his best.
"I've never said this before, but I didn't always give the record companies the best song," he said in the interview. "There are songs in the vault that no one's ever heard. There are several vaults; it's not just one vault."
"I like time capsule stuff," Prince elaborated, before running some of his inventory. 
I have a couple Revolution albums in the vault and two Time albums, one Vanity 6 album ... and tons of stuff recorded in different periods. But so much gets recorded that you don't have time to compile everything. In the future you could put all the best stuff from one particular time period together and then you can release it. It'd just be like if we found a Sly and the Family Stone album and they saved their best stuff. If that's even possible!
Prince's vaults have been a subject of urban legend for years before he passed. The hunt for it received its own BBC documentary special in 2015. When Vice asked its host Mobeen Azhar whether we'll ever see any of the music it contains, he said: "Prince isn't necessarily thinking in terms of years or decades — he's thinking in terms of centuries ... I think the issue isn't when will it open, but instead, will we be around long enough to actually hear everything?"
Let us all hope and pray that we're still in this thing called life to see that day.
Read more: Prince Will Be Missed — And So Will His Masterful Shade