Gay UK Magazine Put Straight, White Ben Hardy on Cover of Issue on Race and Media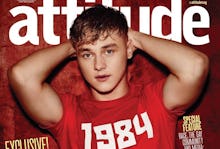 Looks like, for another month, the gay media will remain so white. 
Ben Hardy, a straight, white, cisgender actor is the latest cover boy for Attitude, an LGBT UK magazine. While having Hardy's face on the cover of their summer 2016 issue continues a trend of idolizing straight, white, masculine men on LGBT magazine covers, Hardy's face also covers an issue of Attitude that features a special report on race, the LGBTQ community and media. 
Some people tweeted Attitude with their feelings about the cover. 
Attitude was one of three magazines, including Out and the Advocate, scrutinized for its lack of covers featuring LGBTQ people of color. Fusion did the number-crunching and found that 40% of magazine covers on mainstream gay magazines actually went to straight, cisgender white men while LGBTQ people of color only got 9% of covers. 
The criticism began in late March when black queer rapper Mykki Blanco sparked a lengthy conversation on Twitter when he called out gay magazines for embracing hot straight guys over people in their own community. 
Twitter users began to support Blanco and even birthed a new hashtag: #GayMediaSoWhite. The underlying message of the hashtag was that outlets like Attitude, Out and the Advocate ignore the stories of men of color in order to highlight stories about white (straight) men. 
Attitude's special report on race is aimed at tackling the problem of whiteness in gay media, but it also doubled down by featuring Hardy, a fit, white, straight man, on its cover. 
So who instead of Hardy could possibly be on the cover? 
One of the magazine's articles features Olivier Award-winning actor Matt Henry, who currently stars in Kinky Boots in London. Henry won his Olivier, the British version of the Tony, for his work in the hit production. 
With so many faux pas in one cover, Attitude managed to miss the point of a larger online conversation that centered on the unbearable whiteness of their own magazine.