Tilda Swinton's 'Doctor Strange' Whitewashing Excuse Doesn't Address the Real Problem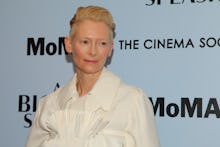 Actress Tilda Swinton defended her casting as an Asian male character in the upcoming Marvel film Doctor Strange. 
She told Thursday reporters there are "very great reasons" to feel comfortable with the decision to cast her as the Ancient One, the title character's East Asian mentor, in the upcoming film. 
"The script that I was presented with did not feature an Asian man for me to play," Swinton said. 
According to Swinton, the character of the Ancient One is not Asian in the upcoming film, meaning the role's race may have been changed. 
"It's not actually an Asian character — that's what I need to tell you about it ... You just have to wait [till Nov. 4] and see," Swinton said. 
Of course, if the character's race was changed, this can be a problem too. Hollywood has a long history of "race-lifting" characters, or switching their race from the character's original race in the source material.
Swinton's remarks come only days after Fresh Off the Boat's Constance Wu and Mulan's Ming-Na Wen commented on the whitewashing and potential use of CGI to make Scarlett Johansson look Asian in the upcoming film Ghost in the Shell. 
"I don't think it is bad for [directors] to be challenged to think outside their boxes. ... I don't think it will reduce their work for them to think, 'What if I cast this person as a Latina?'" Wu said.