The 7 Wildest Prince Stories That Make Us Miss Him Even More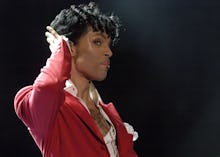 Music lost one of its most beloved enigmas on Thursday: Prince, his royal purpleness, is dead. No one made music quite like him — as so many of the tributes from artists, creatives and politicians have pointed out — and no one could walk through the world creating legends with their every step the way he could, either.
Over the 57 years we shared this Earth with Prince, he left behind many hilariously zany stories. He shaded comedians, schooled some of our most celebrated artists at ping-pong and pursued some of the strangest artistic projects. Everything he touched turned to purple, both literally and figuratively. Yet he insisted he didn't see anything particularly noteworthy about his life.
Read more: 13 Rare Quotes From Prince Allow the Legend to Tell His Story in Own Words
"People fascinate me," Prince once said in an interview with NME, according to the Guardian. "They're amazing! Life fascinates me! And I'm no more fascinated by my own life than by anyone else's."
The following seven stories tell of some of his most legendary hijinks. While reading, ask yourself: Is my life as fascinating as Prince's?
1. He once kicked Questlove off his DJ duties and replaced him with a Finding Nemo DVD.
Famed drummer and DJ Questlove is one of our foremost Prince scholars. He taught a master class including the man's music at New York University and championed his genius in books and listicles. In November, he captured one of his best stories about Prince in a tweet, sharing that Prince "once fired me from a DJ gig in a nightclub and instead blasted the Finding Nemo DVD on the screen." In January, Okayplayer captured that story in full technicolor brilliance, as seen above.
2. He found a bowl of mac and cheese more interesting than Fred Armisen.
Prince was a master of shade, and Fred Armisen knows that better than most. In a story shared with Vulture, Armisen said he once ran into Prince eating mac and cheese at a Saturday Night Live afterparty and tried to tell him he was the greatest.
"I did it in the way that people say things when they want to hear a compliment back," Armisen said. "And he turns to me and goes, 'You know what else is the greatest? This macaroni and cheese.'"
3. He reportedly purpled out NBA star Carlos Boozer's home.
The purple one was a huge basketball fan, as evinced by his constant court-side presence at Minnesota basketball games. But that didn't always mean he treated the sport's players with the utmost respect. 
Prince reportedly once rented out a mansion owned by baller Carlos Boozer and made some very Princely renovations without Boozer's permission. He allegedly converted a bedroom to a hair salon, dyed the front yard's water purple and added a Prince sign to the front gate. Boozer then sued Prince and ended up selling the house to move to Miami, according to reports.
4. He threw a private party for Minnesota's WNBA team.
Not all Prince stories have a sour ending. After the Minnesota Lynx won the 2015 WNBA championship, Prince reportedly invited the entire team over to his Paisley Park estate for a private concert, in which he mixed the team's and its players' names into his songs. 
"If Prince pulls you onstage you have no choice but to turn all the way up and I did," guard Renee Montgomery told For the Win. "I mean I was dancing to every song as if it was the current top Billboard hit, as if he probably wrote that song for me in my mind. Every song that came on next was my favorite song."
5. He launched an erotic funk musical based on Homer's "Odyssey."
When Prince changed his name to an unpronounceable symbol in the early '90s, he also changed up his art to match. One of the oddities he poured his energies into was a musical entitled Glam Slam Ulysses, an erotic retelling of the "Odyssey," Vulture reported.
It was "complete with seminude dancers, pointless and silly sketches and enough phallic symbols and references to make even Heidi Fleiss blush," Variety wrote in its review at the time. "Homer-erotica, if you will."
6. He schooled Michael Jackson in ping-pong.
Once Prince and Michael Jackson were both recording at a Los Angeles studio, and Prince invited Michael Jackson to play ping-pong, according to the Star Tribune. However, Jackson had never played. 
"You want me to slam it?" Prince apparently asked, his former sound engineer David Z told the Star Tribune. "Michael drops his paddle and holds his hands up in front of his face so the ball won't hit him. Michael walks out with his bodyguard, and Prince starts strutting around like a rooster. 'Did you see that? He played like Helen Keller.'"
7. And, of course, Prince really did school Charlie Murphy in basketball.
To a large extent, Dave Chappelle made his name in comedy pinning his brand to Prince and his absurd and free aura. His "Charlie Murphy True Hollywood Stories" sketch on Chappelle's Show is one of his most memorable to date. Prince has confirmed it was all true.
"He was really an athlete," Murphy told TMZ Sports on Friday. "I was surprised at how much people were shocked by that. If you had seen his live show, how could you not watch his show and go, 'That dude is an athlete!' To see him jump off those speakers — he was doing it every night."