8 Dead In Ohio Mass Shooting; Gunman at Large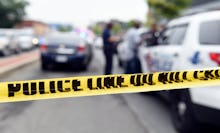 Eight people, seven of whom appeared to be family members, have been killed in an "execution-style" shooting in southern Ohio, and the gunman is reportedly still on the loose.
The victims' bodies were recovered at four locations along a single road in Peebles, a town in Pike County, Ohio.
Citing the Ohio Bureau of Criminal Investigation, NBC 26 reports that authorities are currently investigating the four crime scenes, all of which are in close proximity to one Pike County home.
Sources told Columbus' Fox 28 that "authorities do not believe the shootings are random," due to the familial connection linking seven of the victims.
A local pastor told WCPO 9 in Cincinnati that five children were among the dead, but the Ohio Attorney General's office contradicted that statement, saying Friday afternoon that six adults and two juveniles had been killed. 
According to Fox 19, Peebles High School and all Adams County Ohio Valley Schools were placed on lockdown Friday morning after the bodies were discovered.
A local sheriff told the Associated Press that three children, including a days-old baby, had survived the gunman's attack.
This story is breaking and will be updated as more information becomes available.
April 22, 2016, 4:38 p.m.: This story has been updated.