Virginia Gov. Terry McAuliffe Restores Voting Rights to 200,000 Felons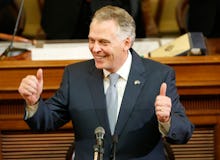 On Friday, Virginia Gov. Terry McAuliffe signed an executive order restoring voting rights to more than 200,000 felons in his state.
Virginia was one of just four states in the nation that bans convicted felons from voting for the rest of their lives, even after completing their time in prison and on parole, the New York Times reported. In the other three states — Florida, Kentucky and Iowa — there have been some attempts at restoring ex-felons' voting rights, but this one is by far the largest.
"Today's action marks a milestone in the campaign to restore voting rights to people with felony convictions," Marc Mauer, executive director of the Sentencing Project, said in a statement. "Disenfranchisement policies are fundamentally at odds both with democracy and with the need to support individuals in their reentry from prison."
McAuliffe, a Democrat, prepared the executive order largely in secret, according to the Times. By using the legal authority that accompanies his clemency powers, McAuliffe was able to circumvent his Republican-controlled legislature. By the same token, however, a succeeding governor could dismantle his actions, and his executive order could face challenges in the courts.
Read more: One Year After Baltimore Went Up in Flames, Maryland Moves to Pass Criminal Justice Reform        
The governor framed the executive order as a matter of racial justice.
"There's no question that we've had a horrible history in voting rights as relates to African-Americans — we should remedy it," McAuliffe said Thursday, according to the Times. "We should do it as soon as we possibly can."
Most of the state's felons are African-American, the Times noted. As a key Democratic constituency, their re-enfranchisement could have serious implications for the presidential election in November, when Virginia will be a crucial swing state.
Undoubtedly alarmed by that prospect, Virginia's Republican Party immediately resorted to scaremongering on social media.
The key thing left out of the Virginia GOP's tweet is that voting rights have only been restored for people who have completed their time in prison and on parole or probation — they are considered by society to have paid their dues. To deprive them of the right to vote is to argue for permanent punishment, and deny citizens the opportunity to make amends for breaking the law.