These TV Moments Show the Evolution of LGBTQ Characters on Screen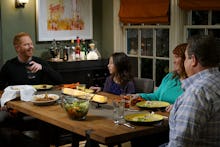 There's no question that the LGBTQ experience has become far more visible on television than in years past. But it's worth remembering that those years aren't as far in the past as we might believe.
From Chandler's reliably homophobic punchlines on Friends to the complete absence of LGBTQ characters in popular shows for years, you don't have to look far back to realize just how recently our society — and the representation of it on television — have started to become more accepting.
But portrayals of different sexual and gender identities on television are evolving quickly. The number of shows with LGBTQ characters on broadcast and cable TV increased during the 2015-2016 TV season when compared to the previous year, according to data from GLAAD. Of the 881 regular characters on broadcast shows, 70 characters (both regular and recurring) were identified as gay, lesbian or bisexual, with regular LGBTQ characters on cable shows increasing from 64 to 84. The organization also included data on original series offered by streaming services in their "Where We Are on TV" report for the first time this season, identifying 43 series regulars and 16 recurring LGBTQ characters on those shows alone.
While more LGBTQ characters are appearing on television, this progress wouldn't have been possible without a number of progressive, risk-taking shows that paved the way for more nuanced characters.
"Ellen DeGeneres saying, 'I'm gay,' on her show with 42 million people watching, that built incredible ground," Rene Reyes, director of programming and festivals at the Paley Center for Media, said in a phone interview. "But all of that stood on the shoulders of the people who were being more open about their sexuality in the '60s and '70s."
The first known time the word "homosexual" was said on air in a drama series occurred during an episode of Espionage in 1963, according to Reyes. While mentions of homosexuals were mostly negative in the '60s, acknowledging their existence was still a step forward. It later led to more positive portrayals in '70s shows like All in the Family (1971-1979), which featured the first gay character on a TV comedy series.
"There are so many more positive portrayals that are available for people to see," Reyes said. "We've made huge progress socially."
Modest, but modern: When Will & Grace premiered on NBC in 1998, two principal gay male characters couldn't be found anywhere else on primetime. Will Truman (Eric McCormack) and Jack McFarland (Sean Hayes) owned their sexual identities. Will played the more serious, but still appropriately suave and fashionable lawyer, and Jack embraced his flamboyant side, obsessed with his looks and his personal TV show "Just Jack." The show hinged on the archetype of the gay best friend, one who will be your roommate if, like Grace, you're a single girl living in the city, or who'll help you indulge in your wild side if, like Karen, you've got your own sexual ambiguity going on.
Almost ten years later, Modern Family (2009-present) took a primetime slot on ABC, slapping a gay couple with an adopted daughter right next to two more traditional heterosexual families, and portraying them all as one big happy mess. While Modern Family falls into the more traditional family comedy genre, including a gay couple is a crucial step forward for LGBTQ characters on TV. Even though both of these shows are on the tamer side of the spectrum in terms of content, putting gay men as principal characters on broadcast TV brought greater visibility to the LGBTQ experience in our cultural imagination.
"Media has always had a symbiotic relationship with society," GLAAD entertainment media strategist Megan Townsend said in a phone interview. "It both reflects our values, but also shares our culture. As society is learning more and understanding more, the media we produce is starting to reflect that and inch along with it."
In newer family comedies like The Real O'Neals (2016) and The Fosters (2013), LGBTQ characters have prominent roles. The Real O'Neals features a 16-year-old gay son in the middle of a Catholic family. In The Fosters on Freeform (formerly ABC Family), one son questions his sexuality while another character, Cole, is transgender. According to GLAAD's report, only 7% of shows on streaming services feature transgender characters — the lowest rating when it comes to representation of LGBTQ identities. But these more progressive characters wouldn't have existed without the modest portrayals that came before them.
"Shows like The Fosters really present an LGBTQ family dealing with family issues," Reyes said. "It's really done in a new, fresh way."
"Teenage Dream": It's hard enough being an awkward teenager, but it gets exponentially more complicated when you are trying to figure out your sexual identity along with all of the other regular parts of growing up. Two mainstream teen shows dramatically moved the conversation around teenage sexuality forward.
In 2000, Dawson's Creek (1998-2003) — which paved the way for teen dramas like The O.C., Gilmore Girls and One Tree Hill — was the first show to feature a "passionate" romantic kiss between two men. At the time, the show was geared toward family-friendly and younger audiences, so the kiss was a gutsy move, although it might seem PG to us now.
Almost a decade later, Glee (2009) expanded on the Dawson's Creek kiss by exploring a romantic relationship between two gay teens — Kurt and Blaine. Kurt, struggling to come out to his macho dad while avoiding jock bullies at school, meets Blaine from a neighboring private school with a rival a cappella group. Blaine's "Teenage Dream" serenade to Kurt shortly is a pivotal moment in the show, fully capturing what it feels like to fall in love for the first time.
Moving forward: In the past year, mainstream shows across different networks have started not only making LGBTQ characters more prominent in their shows, but they've also portrayed more thoughtful, complicated pictures of these identities. From the revolutionary I Am Cait — a reality TV show documenting Caitlyn Jenner's very public, if undeniably privileged, experience as a transgender woman — to Empire's exploration of being a gay hip-hop artist in a music culture that is still having trouble accepting this sexual orientation, television is taking on the varied ways people define themselves and trying to create an authentic picture of their experiences.
There is still more work to be done to achieve full representation for LGBTQ people of all backgrounds on television. Transgender characters are only on three cable shows — and no current primetime broadcast shows. Most of the few transgender characters that do exist are on streaming services, according to GLAAD. On all three networks, LGBTQ characters are predominantly white by a sizable margin: 69% on broadcast, 71% on cable and 73% on streaming networks.
"The characters that do exist — we want to see more substantive characters that have an effect on the story of the medium they are in," Townsend said. "[We want] more nuanced characters and more diverse LGBT characters across all platforms — broadcast, cable and streaming services."
But Difficult People's Billy and Broad City's Jaime show that LGBTQ characters can just be characters, with sexual identities that aren't their defining characteristic and aren't central to the shows' plots. Without progressive shows before them that took risks to tackle the different identities and experiences people have, these characters wouldn't blend so easily into our current television makeup.
"We hope to see the other studios and networks see their examples," Townsend said. "[To] see the critical and commercial success that they are having, and follow along."
June 7, 2016, 11:29 a.m. Eastern: This story has been updated.
Correction: June 7, 2016