President Obama Just Denounced North Carolina's "Bathroom Bill"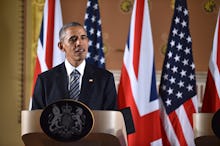 President Barack Obama just joined a growing chorus of activists, musicians and organizations speaking out against North Carolina's anti-LGBT legislation. In Friday's joint media conference with United Kingdom Prime Minister David Cameron, the president said "the laws that have been passed there are wrong and should be overturned." 
Obama's remarks came one day after the U.K. issued a travel warning to its citizens about North Carolina and Mississippi. In March, North Carolina Gov. Pat McCrory signed HB2 into law, which blocks trans people from using public restrooms that correspond with their gender identity. Later that month, Mississippi passed a bill that allows businesses to discriminate against LGBT people if it is "consistent with a sincerely held religious belief or moral conviction."
Read and watch a video of the president's remarks below:
I want everybody here in the United Kingdom to know that the people of North Carolina and Mississippi are wonderful people. They are hospitable people. They are beautiful states, and you are welcome and you should come and enjoy yourselves, and I think you'll be treated with extraordinary hospitality. I also think that the laws that have been passed there are wrong and should be overturned, and they're in response to politics, in part. In part, some strong emotions that are generated by people, some of whom are good people, but I just disagree with them when it comes to respecting the equal rights of all people — regardless of sexual orientation, whether they're transgender or gay or lesbian. And although I respect their different viewpoints, I think it's very important for us not to send signals that anybody is treated differently. And I think it's fair to say that we're not unique among countries where, particularly under a federal system in which powers disperse, that there are going to be some localities or local officials that put forward laws that aren't necessarily reflective of a national consensus. But if you guys come to North Carolina or Mississippi, everybody will be treated well."
Read more: UK Warns Travelers to US About Anti-LGBT Laws in North Carolina and Mississippi