This Mom Just Opened a Cafe for Breastfeeding Women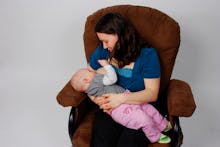 Apparently, a lot of people in the world are terrified of lactating nipples. That's what one young mom and entrepreneur learned after she was reportedly harassed for opening a breastfeeding lounge in the United Kingdom. 
On Wednesday, Charlotte Purdie, 22, opened Nottingham's first family cafe for breastfeeding mothers, the Milk Lounge, complete with bottle warming stations and lactation support staff. While the cafe is primarily targeted at moms, there are also toys for older children and vegetable dishes for customers of all ages. 
"Dads are as welcome and as important as mums are here," Purdie told the BBC. 
Although the business's social media profiles have been flooded with rave reviews and supportive comments from local parents, not everyone was ready to accept Purdie's new business. 
The young mom has already reportedly received harassment from people against public breastfeeding. "I have received death threats and abusive phone calls in the middle of the night since I opened," Purdie said. "Some people are against us." (Mic has reached out to Purdie for comment and we will update if we hear back.) 
For the most part, however, British parents and the city's local community appear to be rallying around Purdie. Facebook likes skyrocketed after reports of the attacks surfaced and several commenters are asking if Purdie could open similar establishments in other cities.  
The eatery was established to create a safe space for families to feed their babies in a public, social space, as nursing mothers are often kicked out of other public spaces for breastfeeding. 
In February, for instance, a nursing mother in Australia was asked to leave a food court for what an elderly man deemed "inappropriate" behavior. Later, in April, a judge in North Carolina called a nursing mother "ridiculous" for breastfeeding in court.
For such a breast-obsessed culture, nursing moms still face a horrifying amount of social stigma. Yet women like Purdie, who refuse to be shamed, are slowly moving the conversation forward. 
h/t BBC
Correction: April 22, 2016