Suicide Rates Have Risen Sharply for Almost Every Group in the US Since 1999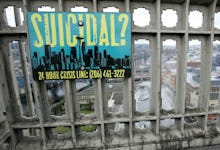 Rates of suicide in the United States have risen sharply among nearly every age group under 75 since 1999, according to a Centers for Disease Control and Prevention report released Friday.
Since 1999, the national suicide rate has risen by a quarter, from 10.5 per 100,000 people to 13 per 100,000 in 2014. Suicide numbers for women in particular shot up by 45%, compared to the numbers for men, which rose by 16%. That being said, the report indicated that men commit suicide at far higher rates than women.
National Center for Health Statistics statistician Sally Curtin, who worked on the report, said that the data is hard to come to terms with.
"I've been losing sleep over this, quite honestly," Curtin told NPR. "You can't just say it's confined to one age group or another for males and females. Truly at all ages people are at risk for this, and our youngest have some of the highest percent increases."
"I've been losing sleep over this, quite honestly." 
The suicide rate for girls between 10 and 14 was one of the most chilling findings: Though the number of suicides for that group was relatively low in 1999, at 0.5 per 100,000 people, by 2014 that number had tripled to 1.5.
The other staggering figure pertained to suicide among Native Americans, who saw the sharpest increase of all ethnic groups, with rates inflating by 89% for women and 38%  for men. 
The federal data doesn't speculate a cause for the increases, but Rutgers University professor of sociology Julia A. Phillips told the Washington Post that 2008's Great Recession likely played a role.
"People [were] growing up with a certain expectation ... and the Great Recession and other things have really changed that," Phillips said. "Things aren't panning out the way people expect. I feel for sure that has had an effect."