Collagen-Infused Gin Is an Anti-Aging Boozy Elixir Made to Help Fight Wrinkles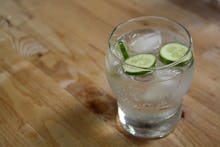 The secret potion to youthful-looking skin is what we've all hoped it would be: alcohol.
Looking past its punned name, Anti-aGin is a new gin that's been distilled with 90 grams of "drinkable collagen" and "botanicals" attributed to anti-aging in attempts to become the "alcoholic equivalent of a facial." Other than collagen, the spirit includes nettle, chamomile, green tea and witch hazel oil.
The body uses collagen to keep skin supple and joints working in top condition, according to Prevention. But collagen production tends to decline at the age of 30.
Although it sounds off-beat to say the least, ingesting collagen has been actually found to improve the skin, according to a 2015 study where participants used collagen supplements and were compared to a placebo control group over the course of eight weeks.
The hospitality company Warner Leisure Hotels launched Anti-aGin in tandem with Bompas & Parr, a culinary research company, and will serve it in its 13 hotels, according to Eater. The 80-proof liquor is available online for about $50 but is currently sold out.
The oral consumption of collagen is already a trend picking up speed in Japan, as "beauty" restaurants serve the clear protein in meals, according to the Telegraph. 
Now, who wants a skin and tonic?