Prince's Autopsy Has Been Completed — Here's What We Know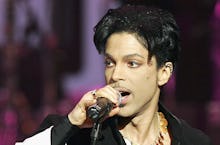 Thursday the world had to come to terms with an impossible truth: Prince, virtuoso multi-instrumentalist and master of shade, is dead. We still have no official report as to how, but on Friday Carver County Sheriff Jim Olson held a press conference to announce Prince's autopsy has been completed.
Olson said it will take weeks until we have a full official report, but he did share some details about what it will contain.
"There were no obvious signs of trauma on the body," Olson said of the star. "Results from this autopsy may take weeks."
"We have no reason to believe that this was a suicide," he added.
TMZ shared reports Thursday night suggesting Prince's death may be the result of a drug overdose. The gossip magazine reported that when his jet made an emergency landing Friday, April 15, Prince had been given a "save shot" typically administered to someone experiencing an opiate overdose. TMZ later reported that drug was the painkiller Percocet, which he had been taking for a hip problem.
Read more: 13 Rare Quotes From Prince Allow the Legend to Tell His Story in Own Words
This story is breaking and will be updated as more information becomes available.
April 22, 2016, 4:37 p.m. Eastern: This story has been updated.