With Huge, Expensive VR Rigs, Porn Stars' Jobs Are Getting a Lot Harder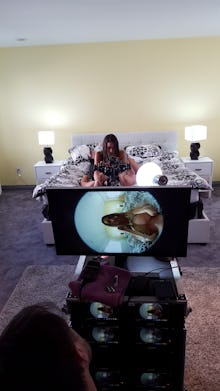 Filming porn can be a messy experience. 
It can be wet and turbulent and unpredictable — all factors which have historically proven unkind to expensive hardware, especially if that hardware is an unwieldy virtual reality rig sitting close to the male talent's face. 
"Every once in a while they have a 'squirter' who douses some very expensive equipment," Pornhub Vice President Corey Price said in an email. 
The struggle of an early adopter. 
"Every once in a while they have a 'squirter' who douses some very expensive equipment" 
Pornhub launched a virtual reality porn channel in March which put the viewer in the male talents' groins. We have previously reported that the male talent had trouble keeping it up with a heavy VR load on their chests, but we have since discovered that that is just the tip of the iceberg. 
Just the tip. 
"Recording in 360-degrees comes with many new challenges that traditional porn does not have to deal with," Price said. It is apparently both "very challenging and taxing" for the talent. 
Assume your positions: During production, the male talent is lying on his back with his head straight back, eight 4K resolution cameras hoisted above his chest, obscuring his view of the female talent. 
Hot. 
Because of the big rig on his chest, the female talent sometimes struggles with where to look, unable to make eye contact with her co-star and sometimes bumping into the cameras, while some male performers have trouble keeping their arms still and their heads in proper placement. 
Sensual. 
And then there is the occasional malfunction where the furniture breaks. 
Titillating.
The hard truth: Filming immersive porn means directors, passersby and mirrors need to stay off the set. Price said that people sometimes walk through a scene, unknowing that it is being filmed in full 360-degrees. 
It's also difficult to catch the perfect angles since the director can't be present at all times. And even if they capture the money shot and the male talent keeps it up the whole time, there's still a risk that the hardware won't perform its job faultlessly — there's an "exponentially increased risk of hardware failure", Price said — so they have duplicate components on site as backup. 
But porn creators are determined to overcome the obstacles. Price said they expect their virtual reality porn content to "reach new heights" and set an "absolute standard" for 360-degree stereoscopic VR content.