How to Watch Beyoncé's 'Lemonade' HBO Special for Free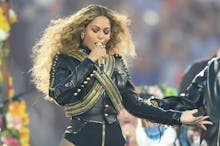 There's no denying it — HBO's primetime lineup for this weekend is lit. Game of Thrones, Silicon Valley and Veep are all back from their winter hiatuses for their season premieres on Sunday, April 24, and Beyoncé is debuting her highly mysterious film, "Lemonade" on Saturday, April 23.
Queen B hasn't given us much to go on in the way of details about the project aside from the short trailer she released in mid-April. So, how do you catch all the good stuff dropping this Saturday and Sunday without being a subscriber to the premium channel?
HBO is FREE this weekend. 
If you're a cable subscriber, you're eligible for a trial period of the channel from April 22 through April 25, during which its entire catalog will be available (now's your chance to binge watch all six seasons of The Sopranos! Hurry)!
If you don't have cable, that's okay — you can still catch Beyoncé's debut and the season premieres on HBO Now's 30-day trial, as long as you remember to cancel the $14.99 subscription at the end of the month. 
Happy binge-watching!