Here's Why This Woman Defaced a Black Lives Matter Sign by Erasing the Word "Black"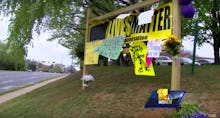 A Maryland woman admitted to defacing several Black Lives Matter signs in recent months, including defacing a Black Lives Matter sign to just say "Lives Matter" on a church's property.
Chari Raye McLean defaced a sign in front of St. Philip's Episcopal Church in Annapolis, Maryland. She spray-painted out the word "black" to make the sign read "lives matter." 
McLean told a local NBC affiliate that she's not a bigot, and that she "just [loves] America." She said, "Lives matter, not black lives, but lives, all of 'em, any color, all lives, police especially."
McLean denied defacing the sign at first, but police caught her with black spray paint on her hands. 
Police will not charge McLean with a hate crime because they claim she doesn't understand the Black Lives Matter movement and her actions were not racially motivated. 
"When she was being interviewed, she simply said that she just disagreed with their message and she believes that all lives matter, which includes black lives. "So she just clearly doesn't understand the concept behind the Black Lives Matter movement." Anne Arundel County Lt. Ryan Frashure said to a local NBC affiliate.
McLean said she does have remorse. McLean is being charged with two misdemeanor counts of destruction of property, faces $500 in fines for each count in Annapolis and may serve up to 60 days in jail. 
"I'm sorry. I shouldn't have done it, but I don't like hate groups and I don't want to see our police killed," McLean said to a local NBC affiliate. While it is nice that McLean does not want to see police killed, she seems to know very little about the ongoing police brutality epidemic in America, or the very real problems with saying "All Lives Matter."