These Photos of Prince George Saying Hi to Barack Obama Are Face-Meltingly Cute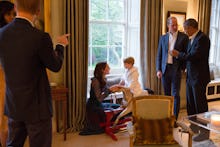 On Friday evening, as tiny royal person Prince George of Cambridge was preparing himself for bedtime, his parents were busy welcoming some no-name American dinner guests to Kensington Palace in London.
Barack and Michelle Obama met with Prince William and his wife, Kate Middleton, for a dinner at the Royal couple's home and likely discussed politics or foreign affairs or something — no one can really say with complete certainty, because it's impossible to pay attention to anything other than the photos of Prince George and his fluffy white bathrobe.
According to NBC News, George was allowed to stay up 15 minutes past his bedtime to hang out with his good friend, the sitting president of the United States, who sipped drinks with Michelle, the Royal couple and Prince Harry of Wales in the drawing room before dinner.
A stuffed Portuguese water dog that Obama gave to Prince George could be seen in photos from the evening. The dog is the same breed as the Obamas' two pets, Sunny and Bo.
George also had the opportunity to show off another gift from the Obamas, a rocking horse, before presumably retiring to his chamber for the evening.