Republicans Ask for Leniency for Alleged Child Molester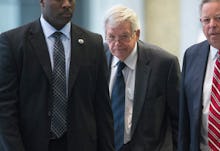 Letters from Republican party leaders were submitted to a federal court on Friday, begging for leniency in the sentencing of Dennis Hastert, the former U.S. Speaker of the House who recently pleaded guilty to illegally structuring money transactions allegedly used to cover up a child molestation scandal.
According to Politico, Hastert's legal team filed dozens of letters from former colleagues and family members who hoped their defense of his character would help to reduce his jail time. 
Among those voicing support for Hastert were former House Majority Leader Tom DeLay and former GOP Reps. Thomas Ewing, David Dreier, Porter Goss and John Doolittle.
In his written account of their relationship, which spanned nearly three decades, DeLay said that Hastert was a man of "great integrity" who "respects his fellow man."
"We all have our flaws, but Dennis Hastert has very few. He is a good man that loves the lord. He gets his integrity and values from Him. He doesn't deserve what he is going through," he wrote.
Hastert, who served as House speaker from 1999 to 2007, pleaded guilty to illegally structuring $900,000 in alleged hush money payments to a former student Hastert allegedly sexually abused during his time as a wrestling coach and high school teacher in Illinois. Two other former students have made complaints of sexual contact by Hastert, as did a woman who claimed that her deceased brother was also abused, according to Politico.
The letters of support were initially intended to be filed under seal, but had to be refiled publicly in order to be considered during sentencing. 
Hastert's sentencing is scheduled for April 27. 
Correction: April 25, 2016