This Dad's Epic Takedown of Anti-Trans Bathroom Laws Is Going Viral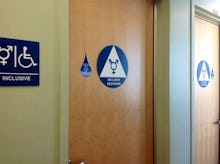 Dad jokes may be groan-inducing, but it turns out dad takedowns are worthy of a standing ovation. 
A Dallas resident, and father of a 21-year-old daughter, posted a Facebook status on April 14 that, in the short time it's been on the social networking site, has garnered over 5,000 shares. 
In the post, Steven Rudner, who is the chair of Equality Texas' board of directors, spoke out against the recent wave of anti-transgender laws in the United States, most notably HB2 in North Carolina, which forces people to use the bathroom that matches their gender assigned at birth, not their gender identity. 
In the post, Rudner speaks candidly about the things that worry him when it comes to raising a daughter — one of which is not whether she uses the bathroom with transgender women. 
I worry about her being sexually assaulted, because that happens a lot. I worry about her being the victim of a drunk driver, because that happens a lot. I worry about her being the victim of gun violence, because lots of people die from gun-related injuries. Here's what I do not worry about: I don't worry about her being attacked in a restroom by a trans woman because (a) it has never happened; and (b) trans women are the most victimized group of people I've ever met, and the least likely to commit a crime of indecency in a restroom, because they are afraid of getting beat up when all they want to do is pee.
Rudner's post directly confronts the transgender bathroom predator myth, often the fuel behind anti-trans legislation. These myths persist despite zero recorded instances of a transgender person ever assaulting someone in a restroom. Conversely, many transgender and gender nonconforming people feel nervous using a restroom that does not match their gender identity. 
Several individuals and businesses have spoken out against the laws since they were passed. Corporate giants like PayPal have moved business out of North Carolina, retailer Target has publicly stated that anyone can use the bathroom or fitting room of their choice and even a local Georgia Kroger put up a sign explaining why they have unisex bathrooms. 
Commenters seem to love Rudner's logic and empathy. The post has been universally praised, including by openly gay Pennsylvania state representative Brian Sims. 
Rudner ends his post by pointing out the need for kindness and acceptance toward trans people. 
And here is something else I don't worry about: I don't worry about my daughter being cruel and inhumane to trans men, women or kids, because my wife and I have raised her to have values and because she is a kind person. There are things to worry about. And then there are things people want you to worry about to conceal their agenda of discrimination and hate. Wake up.
The sort of kindness Rudner describes is sorely needed: In the wake of HB2's passage, calls to one trans-focused crisis hotline have nearly doubled.