Doctor Who's New Companion Is a Woman of Color With Natural Hair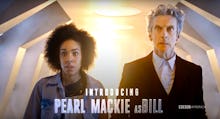 Every Doctor needs a companion and 28-year-old Londoner Pearl Mackie has been named as the newest companion, Bill, for the upcoming 2017 series of Doctor Who, BBC reported. 
Mackie is not the doctor's first black companion, but she is the first to sport a full head of natural hair. 
In a newly released teaser trailer, Bill is seen running away from Daleks with the latest Doctor, played by Peter Capaldi. 
After the Doctor explains that a Dalek is the "deadliest alien war machine ever devised," the two continue to run, but not until Bill has a chance to ask one more question. 
At the end of the trailer, the Doctor exclaims that 2017 needs the duo and they transport to that year — the same year fans can expect new episodes of Doctor Who and his natural-haired companion, Bill.