Beyoncé's 'Lemonade' Literally Broke the Entire Internet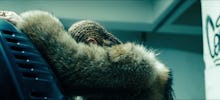 Beyoncé transformed the entire world Saturday evening with the release of her visual album Lemonade. Judging by people's reactions on Twitter, the world may never be the same. 
And finally, for those who tried to sing along: 
And yes, Beyoncé was all of the top three trending hashtags on Twitter. 
Just remember, today is the day that Beyoncé slayed us all and sent us to glory.