Maine Gov. Paul LePage Mocks Immigrants' Accents, Calls Indians "the Worst Ones"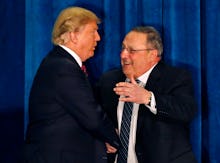 Maine Gov. Paul LePage has some opinions on immigrants.
While discussing his opposition to a referendum to raise the Maine state minimum wage to $12 at the state's Republican convention on Saturday — LePage supports raising it to a more modest $10, from its current point of $7.50 — the governor took the time to helpfully weigh in on Bulgarian and Indian accents.
According to the Associated Press, LePage said workers "from Bulgaria" are hard to understand and referred to Indians as "the worst ones," who are "lovely people but you've got to have an interpreter." He said immigrants like them are taking over employment in the state's restaurant industry.
LePage may be taking his cues from Republican presidential candidate and real estate magnate Donald Trump, who lost 19 out of 20 of delegates at the contested party convention to competitor Texas Sen. Ted Cruz. LePage, the 20th delegate, supports Trump, who recently mocked the accents of Indian call-center workers.
It's far from the first time LePage has pandered to bigoted stereotypes. In January, the governor blamed the state's heroin problems on "guys with the name D-Money, Smoothie, Shifty ... half the time they impregnate a young, white girl before they leave." Other controversial remarks by LePage include telling the president to "go to hell" and saying State Sen. Troy Jackson is "the first one to give it to the people without providing Vaseline."
Earlier this year, a Democratic effort to impeach LePage over allegations he improperly used his office to intimidate his political opposition failed. According to the Bangor Daily News, LePage's approval ratings held at just 32% in October 2015.