Are Beyoncé and Jay Z Getting a Divorce? There's More to 'Lemonade' Than Cheating Rumors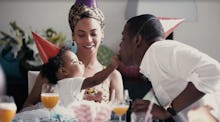 Beyoncé's latest multilayered visual album Lemonade can be perceived and interpreted in countless ways. On its surface, the international megastar seems to have added fuel to the divorce rumor fire surrounding her marriage to Jay Z, even more after her sister Solange Knowles attacked Jay in an elevator after 2014's Met Gala. 
While there's plenty of lyrics for endlessly entertaining speculation about two of the most influential artists and their elusive relationship, the messages Beyoncé employs throughout Lemonade go much deeper than her marriage. As Queen Bey walked down the streets of New Orleans slinging a bat and slugging away at fire hydrants and windshields in "Hold Up," with onlookers applauding her audacity, she was sending a call-to-action for the liberation of black women nationwide. 
Throughout the rest of Beyoncé's career-defining album, she's demanding her fellow women to step into formation and claim their freedom; from the men who confine their self-love, the relationships that diminish their potential, the negativity that reinforces stereotypes about their hair and style and the idea they aren't worthy of the same power and respect as their male counterparts.
"Throughout the rest of Beyoncé's career-defining album, she's demanding her fellow females to step into formation and claim their freedom."
Meanwhile, Beyoncé's relationship with her family doesn't appear to have taken a hit by the release of Lemonade. In fact, the reality of her situation with her husband and music partner is likely just the opposite — not only does the visual album end with several heart-melting moments showing the genuine compassion and care Beyoncé and Jay Z hold for each other, cradling each other's bodies, laughing with their daughter and enjoying life, moments from the album also seem to confirm Jay Z had a hand in the production of the music-movie, attending several of his wife's video shoots and even partaking in them.
"Where do you go when you go quiet?" Beyoncé says in between songs, with teams of black women standing still as the camera pans across them. "You remind me of my father, a magician. Able to exist in two places at once. And the tradition often in my blood, you come home at 3:00 a.m. and lie to me. What are you hiding? The past and the future merge to meet us here. What luck. What a curse."
At another point, Beyoncé makes it abundantly clear where she stands on the societal phenomena of side pieces and their mainstream acceptance: "So, what are you gonna say at my funeral now that you've killed me? 'Here lies the body of the love of my life whose heart I broke without a gun to my head,'" she says. 
"'Here lies the mother of my children, both living and dead. Rest in peace my true love, who I took for granted. Most bomb pussy, who because of me sleep evaded. Her shroud is loneliness, her god was listening. Her heaven will be a love without betrayal. Ashes to ashes, dust to side chicks.'"