Rachel Roy's Instagram and Wiki Page Are Being Hijacked by Beyoncé's BeyHive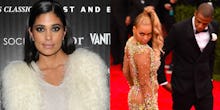 When you come for the queen bee, you can expect to feel the wrath of the rest of the hive. That's exactly what happened to fashion designer Rachel Roy shortly after the release of Beyoncé's visual album Lemonade, when she was stung across social media and even on her Wikipedia page for trying to make one of the tracks about her relationship to Jay Z. 
Rumors of an imminent divorce have remained a constant for Beyoncé and Jay Z, especially when the singer injects seemingly personal anecdotes from her life throughout her music (but don't worry, Lemonade most likely isn't Bey's way of ditching her man). But when Roy heard Beyoncé's song off Lemonade titled "Sorry," in which she sings, "He better call Becky with the good hair," the designer took it upon herself to interpret what that meant to her 317,000 Instagram followers. 
"Good hair don't care," Roy captioned a candid photo of herself and a friend laughing as they're adjusting the lighting for the photo. "But we will take good lighting, for selfies, or self-truths, always." In a possible last-ditch effort to avoid the predictable onslaught of bees, she desperately tagged the photo with #NoDramaQueens.
Her Instagram is now private. According to New York magazine's associate editor Brian Feldman, "Rachel Roy's Wikipedia page was edited 182 times in the 72 minutes before it was locked down."
Roy has stepped in and out of the limelight of the fashion industry throughout her career, designing clothes worn by a number of household celebrities and appearing on red carpets with the likes of Kim Kardashian-West and Chrissy Teigen. But Saturday night might have been the end of her public persona for some time. 
The BeyHive were admittedly a little too savage:
Roy has since spoken out on Twitter, writing, "I respect love, marriages, families and strength. What shouldn't be tolerated by anyone, no matter what, is bullying, of any kind." Whether she's speaking to the line found in Beyoncé's Lemonade, or the following backlash from her shady Instagram caption remains unclear.