George Clooney Wants the US to Finally Recognize the Armenian Genocide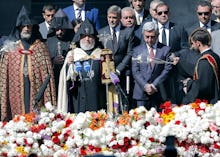 Speaking from the Armenian capital of Yerevan, actor and humanitarian George Clooney beseeched the United States and the rest of the global community to officially recognize the death of an estimated 1.5 million Armenians in the early 20th century as a genocide.
The massacre of the Armenian people at the hands of Ottoman Turks began on April 24, 1915, but both the United States and Turkey have historically refused to use the word "genocide" when describing the atrocity.
Addressing an assembled crowd of 15,000 people with the country's president, Serzh Sarkisian, by his side, Clooney said that the genocide "is a part of Armenia's history, it's also a part of the world's history, it's not the pain of one nation only," according to the Agence France-Presse.
The actor serves as a co-chair on the selection committee for the Aurora Prize for Awakening Humanity, which grants an annual cash prize to an individual who has demonstrated exceptional work for humanitarian causes "on behalf of the survivors...and in gratitude to their saviors".
The inaugural prize for 2016 was awarded to Marguerite Barankitse, who has saved lives and cared for orphans in refugees in Burundi during the country's ongoing civil war.
On Friday, President Obama disregarded a vow he made during his campaign for the presidency calling the massacre "the first mass atrocity of the 20th century" in a statement but stopping shy of using the word "genocide".
Clooney told the Malay Mail Online that he thinks the refusal to use the term is a foolish decision.
"I think it is ridiculous not to talk about it in terms of genocide, because, of course, it was," he said.