Bernie Sanders Says the Path to Beating Hillary Clinton Is "Narrow"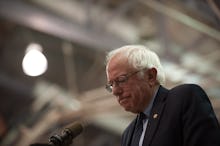 This won't sit well with Bernie bros.
Presidential hopeful Bernie Sanders admitted Sunday that his campaign is battling uphill on NBC's Meet the Press. When host Chuck Todd asked Sanders whether or not he would call his campaign a success, even if it doesn't end in the Democratic nomination, the Vermont senator answered yes — and nodded to his position as the underdog.
"While we have a narrow path to victory, we're gonna fight through that path and we hope to win," Sanders said.
"We are in this race; we are not writing our obituary," he later added.
Coming off a loss in his home state of New York, the Brooklyn-born senator faces tough odds in Tuesday's Pennsylvania primary, where opponent Hillary Clinton is forecasted to win. Although he enjoyed a string of wins in western states, he's not been able to close the Democratic frontrunner's delegate lead. But Sanders still has hope because, as he remarked to Todd, his party cares most about shutting down the Trump campaign.
"Bernie Sanders runs better against Trump in almost all of these polls than does Hillary Clinton," the senator said. No matter the outcome, Sanders will work to advance the anti-Trump cause. "I will do everything that I can to make certain that Donald Trump is not elected president," he said.
The Republican frontrunner has, in the past, issued thinly veiled threats aimed at the Sanders camp. Could it be that the Democratic socialist intends to turn those tables? Tread lightly, Trump, or face the wrath of Sanders' incensed masses.
Read more: Here's How Bernie Sanders Has Already Ignited a Political "Revolution"