This Is What It's Like to Get Your Period and Grow a Beard at the Same Time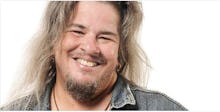 Alec Butler was 12 when puberty hit — and instead of bringing either a period or the beginnings of a beard, it brought both. Butler — now a playwright, filmmaker and writer — was intersex, meaning their reproductive anatomy didn't fit textbook definitions for male or female, although it wasn't until the mid-1990s that they realized it. In an essay for BBC magazine, the Canadian artist shared what it was like to grow up with a taboo identity.
"The message I want to put out to my community — intersex, nonbinary and native — is, be proud to be mixed-gender and mixed-race," Butler wrote. "That's what I've learned to be — proud."
When Butler got their first period, doctors recommended everything from hormone therapy to institutionalization. "Luckily my parents were outraged and they said, 'We're not going to do that. We're just going to love you, and you can choose how you want to be,'" Butler wrote. Their classmates were not so kind, bullying Butler constantly and passing them notes suggesting suicide. 
"When you're in a body like mine, it is trouble," they wrote. "People get upset." Butler identified as female, despite feeling more male.
Life after school was no easier: Jobs were hard to come by, and Butler wasn't fully accepted by the gay and lesbian communities. It wasn't until the '90s that Butler, at the prompting of friends, let their beard grow, learned about intersexuality and, toward the end of the decade, changed their name to Alec.
While it's "really problematic for people to understand the concept of being intersex," they wrote, it's a more difficult identity for parents to accept than it is for children. Butler hopes the current move away from gender binaries will ease the self-acceptance process for today's intersex kids. 
"I like my body the way it is — I had no desire to change it," they wrote. "I like having a beard. I like having breasts. I just like it."
Read more: Now Trans Men Can Wear "Period Underwear," Too
h/t PinkNews
April 25, 2016, 2:27 p.m. Eastern: This story has been updated.