How Beyoncé Is Bringing Fashion Diversity to the Mainstream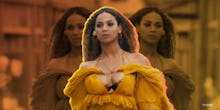 Beyoncé knows how to get people talking. 
From the beginning of her career, she's had a knack for melding together her craft and the day's most powerful and important conversations. With her music videos and live performances, she's pointed to the importance of black female empowerment, police brutality, racism and sexism. In just one of her recent songs, she was able to allude to both queer culture and the civil rights movement. 
Read more: Beyoncé's 'Lemonade' Literally Broke the Entire Internet
On Saturday night, when she released the visuals for her surprise album Lemonade on HBO, she continued this masterclass on how to use your platform wisely. She also, not so coincidentally, continued her legacy of hiring diverse fashion models who break the mold of who a model can be, and what they can look like. 
For the powerful video for "Forward" — which also stars the mother's of Michael Brown, Trayvon Martin and Eric Garner — Beyoncé brought in Winnie Harlow, a model with vitiligo. By including her in this emotional, thoughtful film, she's showing viewers and fans the power and diversity of black women. Additionally, by including her in a release as history-making as this one, she's effectively bringing Harlow into mainstream culture.
Given that this is Beyoncé we're talking about, it's safe to assume that she has her pick of featuring any model she wants, which could be as easy as hiring whatever top supermodels are available at that time, like someone whose name rhymes with Shigi Shadid. But instead, she goes out of her way to hire some of fashion's most groundbreaking figures who are changing how people think a model can and should look.
Later in Lemonade, Harlow is featured during the song "Freedom," an equally powerful, soaring anthem to black female strength. 
Alongside Harlow in the film is Michaela DePrince, who's not a model, but a ballerina. DePrince has vitiligo as well, and by casting her in this video with Harlow, Amandla Stenberg and Zendaya, she's not singled out for what she looks like, but for her accomplishments and talent.
That same idea goes for when Beyoncé hired Shaun Ross for her video for "Pretty Hurts" in 2013. Ross has albinism, so his skin is lacking pigment. 
Within the industry, Ross, who has modeled for Givenchy and has been featured in Italian Vogue, is one of the most outspoken advocates for diversity in fashion, even recently starting a campaign called #InMySkinIWin, which helps empower people to love the shade, texture and pattern of their skin. 
He was on the brink of stardom in 2013 and, partly because of this video and its massive popularity, he was able to cement his celebrity status. This can easily be seen now on his Instagram, with Ross hanging with everyone from Kylie Jenner, Steve Aoki, Zendaya and even Winnie Harlow. On Instagram, he has more than 260,000 followers. 
"Even though it was a short part in the video I felt more like an actor," he once told Elle. "She showed me to the world as myself. She didn't show me as a creature."
Along with Ross in the "Pretty Hurts" video was model Diandra Forrest, who has albinism as well. 
The "Pretty Hurts" video has currently been watched more than 131 million times on YouTube. Featuring lesser known models who are trying to make a difference within the industry matters. And because it's a Beyoncé video that's doing that, it's a special kind of impact. At this point, Beyoncé fans are looking to her not just for how to dress or look, but also how to exist in the world. She mentions Red Lobster, and everyone suddenly goes to Red Lobster. She openly respects and admires models like Harlow, Ross and Forrest, and maybe industry movers and shakers will do the same.
What makes her inclusion of them even more powerful is that none of the models are being singled out for their looks. Instead, they're being shown in Beyoncé's videos to further this idea that models don't have to look one way in particular to be successful. 
Beyoncé's attention to some of the industry's most unique extends even outside of her music videos, and onto the main page of her website. When she launched a new line of merchandise after she (yet again) surprised us with the single "Formation" and corresponding video, she went ahead and hired model Jillian Mercado, who uses a wheelchair and has muscular dystrophy. 
Mercado's a woman you probably haven't seen on the runway for designers like Givenchy and Dolce & Gabbana, and yet Bey and her team sought her out for this. More and more, it seems like Bey is going out of her way to include just the right people to send just the right message. And by "the right message," we mean the message that there are a plethora of ways to be worthy and important and valuable. When it comes to beauty, as well as success, there is no one way you have to be or one way you have to look. 
With her ongoing theme of black female empowerment, we expect to see more thoughtful casting from her in the future, whether it be a model who breaks the mold or a model who's trying to change the future.