With 'Lemonade,' Beyonce Has a Clear Message for Pop Music: Do Better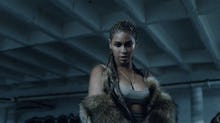 Finally, fans were introduced to Beyoncé's long awaited Lemonade on HBO Saturday night, opening up a multitude of layers to the singer's underlying political and spiritual influences and depth. While fans discussed the prominent themes of celebrating black women, their bodies and the liberation of females worldwide, in several tracks Beyoncé also left a message for pop music in 2016: Do better.
For Beyoncé, relying on club anthems and catchy beats won't be enough any longer. With her sixth studio album, the Houston-bred hitmaker is incorporating a world of musical influences: contemporary reggae, soul, hip-hop, R&B and rap, to name a few. But Queen Bey isn't just calling on women to liberate themselves from toxic relationships and the Eurocentric beauty standards confining their self-love: She's demanding music labels to take heed of her diversified, inclusive pop stylings. 
In "Love Drought," we hear Beyoncé's heartbreak and emotional candidness through her powerful lyrics: "Ten times out of nine, I know you're lying/ But nine times outta ten I know you're trying/ So I'm trying to be fair/ And you're trying to to be there and to care/ And you're caught up in your permanent emotions/ All the loving I've been giving goes unnoticed/ It's just floating in the air."
The song was penned by Beyoncé and Kanye West's collaborator and friend Mike Dean. The bass and floating synth were also supplied by Dean, giving the song its meta artistry and pop nuance. It's genuinely good pop — the definition of what other artists could be capable of in 2016, if they decidedly drop the easy gimmicks consistently employed in most of the top 40 tracks.
Meanwhile, "Sorry," which will likely become the anthem for the summer of 2016, capitalizes on the trend of lyrics with the potential to be echoed in droves, with the message "I ain't sorry" easily on track to become for Beyoncé what Taylor Swift's trademarked "this sick beat" has become for the pop star. The only difference, however, is there is a much deeper message resonating with listeners in Lemonade's pop influences compared to Swift's: While the latter is focusing on the beat she's singing over, a typical one at that, Beyoncé is providing a critique of broken love and encouraging women to take a stand.
The "Sorry" singer also enlists the help of tennis superstar Serena Williams, who spends her surprise cameo showing off her incredible body, twerking for Queen Bey and brushing off any leftover naysayers critiquing her balance of masculinity and femininity. 
Lemonade is so much more than an album for Beyoncé and the music industry it was created in — the singer's latest release will certainly have lasting impacts on listeners, producers, music labels and the societies in which they all reside. We're just beginning to feel the effects of it.
Read more: With 'Lemonade,' Beyoncé Has Already Secured 2016's Album of the Year