Donald Trump Failed a Basic Requirement for Becoming President: He Can't Change a Diaper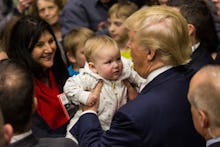 Before they cast their vote, the nation's parents might be interested to hear Republican presidential candidate Donald Trump was too good to wipe his kids' butts when they were a baby.
That's by his own admission.
In November 2005, Donald Trump told radio hosts Gregg "Opie" Hughes and Anthony Cumia he doesn't change diapers — or even really had much interest in having kids in the first place, BuzzFeed News reported on Sunday. Instead, he's left the work to his wives Ivana Trump, Marla Maples and Melania Trump.
Asked by the hosts whether he did the dirty deed, Donald Trump, then 59, responded, "No, I don't do that."
"There's a lot of women out there that demand that the husband act like the wife and you know there's a lot of husbands that listen to that," he continued. "So you know, they go for it."
"If I had a different type of wife, I probably wouldn't have a baby, ya know, cause that's not my thing," he continued. "I'm really like a great father but certain things you do and certain things you don't. It's just not for me."
In another interview with Howard Stern in 2005, BuzzFeed also found, Donald Trump seemingly admitted he had little roles in his children's daily upbringing.
"I mean, I won't do anything to take care of them," he said, saying that was Melania Trump's responsibility. "I'll supply funds and she'll take care of the kids. It's not like I'm gonna be walking the kids down Central Park."
Read more: Donald Trump's Kids Will Not Be Voting For Him in the New York Primary
Melania Trump's cool with it, officially.
In an interview with Parenting, Melania Trump said, "I am a full-time mom; that is my first job. ... [Donald] is very busy. He spends quality time with Barron. They have a beautiful relationship full of respect and love. ... He didn't change diapers and I am completely fine with that. It is not important to me."
Donald Trump has had five kids over the course of his three marriages: Barron, Donald, Eric, Ivanka and Tiffany, none of whom it would seem have had their childhood incontinence dealt with by their father. On the other hand, that might be a blessing — getting a wiping courtesy of The Donald is the stuff of nightmares.
Failing to pitch in on parenting's dirtiest job isn't the only troubling fatherhood-related aspect of Donald Trump and his candidacy. One psychological study concluded support for his presidential run is strongly correlated with authoritarian parenting styles.
Letting the wife deal with the poopier parts of parenting falls right alongside other moves in the Donald Trump playbook. In March, progressive super PAC Our Principles released a video of women reading some of the many sexist statements the candidate has dropped over the years, including insults like "bimbo" and "fat pig."
April 29, 2016, 2:45 p.m. Eastern: This story has been updated.