The Meaning Behind Beyoncé's 'Lemonade' Is Hidden in Its Title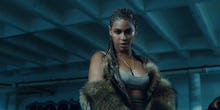 Get the five stories that will challenge you to rethink the world by signing up for MicCheck Daily.
Watermelon, cherry — Beyoncé was on a bit of a fruit kick on 2013's self-titled album. So it didn't turn many heads when she announced that her new album, released Saturday night, was titled Lemonade. But few could predict how meaningful that title would be.
Beyoncé does nothing without purpose. She has been giving us hints that her new album would be called Lemonade for over half a year. Seven months ago, she posted several photos of glasses of lemonade on Instagram, as well as the now-iconic picture of her smelling a lemon, with its leaves still attached.
Read more: With 'Lemonade,' Beyoncé Has Already Secured 2016's Album of the Year
Like Strange Fruit before it, the title contains a deep and personal metaphor for the star. It connects Bey with her past. In elevating the symbol from just a cliché about life and lemons, Bey creates a rallying cry for all black women working to feel true liberation in America.
When life gives you lemons, use them to smash the patriarchy. The main mention of "lemonade" in Bey's revenge and reconciliation fantasy comes in the visual album's final chapter, "Redemption." She gives the recipe, and moves on to speak of her grandmother, likely Agnéz Deréon, who Beyoncé named her House of Deréon fashion line after in 2006.
Take one pint of water, add half pound of sugar
There's also a quote from Jay Z's grandmother, Hattie White, speaking on her 90th birthday. "I had my ups and downs, but I always find the inner strength to pull myself up," she says. "I was served lemons, but I made lemonade." The lines are the key to unlocking the album's whole critique.
This is a metaphorical lemonade-making. One of the most provocative aspects of Beyoncé's "Formation," the lead single she dropped in February, is that it didn't seem to equally speak to all women. Those horrified by Beyoncé's explicit praise of her "negro nose and Jackson Five nostrils" and her "baby heir with baby hair and afros" can likely find a lot more in Lemonade to get pissy about.
"The most disrespected person in America is the black woman," a sampled Malcolm X says in the visual album. A large portion of the album aims to empower those women.
Black women earn less than white women, and significantly less than white men. Cue "6 Inch": "She grinds from Monday to Friday/ Works from Friday to Sunday/ She gon' slang/ She too smart to crave material things."
Black women face domestic violence and abandonment, often to greater degrees than other women. "Are you a slave to the back of his head?" Beyoncé asks in the "Accountability" section of the film. "Am I talking about your husband or your father?"
This is not ordinary. These kinds of messages do not usually find their way into the blockbuster pop that Beyoncé has been making alongside names like Taylor Swift and Katy Perry for years upon years. This is liberation pop — pop seeking escape and solutions that last beyond the several hours spent at the club or a house party.
This is not your typical summery, bikini-and-cool-drink lemonade. This is lemonade you perfect out of life's harshest fruit and pass along as a recipe to your children. Hopefully, the sweetness they taste will keep them working towards ensuring every moment as vivifying and perfect as that first sip.