Chrissy Teigen Takes Down the Trolls Criticizing Her Parenting Skills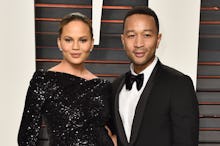 Chrissy Teigen's gotta eat. The Sports Illustrated swimsuit model and ever-candid social media star married to John Legend was lambasted recently for daring to step away for a bite to eat with her husband nine days after giving birth to their baby daughter Luna. 
Never one to shy away from calling out her naysayers, Teigen posted screenshots some of the most passive aggressive — and aggressive aggressive — comments from social media.
Read more: Chrissy Teigen Just Dropped a Serious Truth Bomb About the Post-Birth Experience 
"I went to dinner. People are pissed," Teigen captioned the screenshots. "Good morning!"
When asked how her newborn was doing, Teigen took one more shot: "I dunno I can't find her." 
The offending comments came from disapproving followers citing their own, ostensibly superior brand of parenting.
"Maybe it's just rich people but I had two children, I had them at a young age also. I don't think I let anyone watch my child without me till a month or two. I just wanted to hold and stare [at] my children when they were born," wrote one.
"'I never wanted to leave my daughter, I love her, BUT THAT'S JUST ME' the passive aggressiveness is real!" Teigen tweeted, quoting another troll.
Behind Teigen's sarcasm is an issue new mothers are forced to contend with every day: unsolicited judgment from strangers.
And, since you asked, Mr. Teigen is recuperating from the birthing process just fine.