George Clooney Just Presented a $1 Million Prize to This Woman Who Saved 30,000 Kids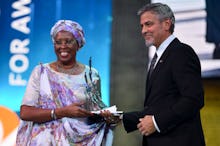 In Yerevan, Armenia, on Sunday, George Clooney presented Marguerite Barankitse with the a $1 million Aurora Prize for Awakening Humanity for her role in saving and sheltering 30,000 children during the Burundi civil war. 
Barankitse founded Maison Shalom ("House of Peace") in 1993 to protect war and AIDS orphans as Burundi descended into an ethnic conflict that culminated in civil war. 
Read more: George Clooney Wants the US to Finally Recognize the Armenian Genocide
Conflict between the Hutus and Tutsis — warring ethnicities at the source of the Rwandan genocide — put countless Burundian children at risk. Though Barankitse is herself a Tutsi, she endangered her own life to protect Hutus. 
Barankitse received $100,000 personally and $1,000,000 to distribute to organizations of her choice, doing similarly inspiring work. 
Clooney is a co-chair for the for the Aurora Prize, "a new global award that will be given annually to individuals who put themselves at risk to enable others to survive," according to the website. 
"Recipients will be recognized for the exceptional impact their actions have made on preserving human life and advancing humanitarian causes, having overcome significant challenges along the way."
While presenting the award, Clooney described how his own ancestors had to flee Ireland during the famine and head to America in the hopes of survival. There, he said, they were met with humanity. 
"The simple truth is that all of us here tonight are the result of someone's act of kindness. We all stand on the shoulders of good people who didn't look away when we were in need," he said, according to the Guardian. Refugees are "people, just like you and me."
Watch the ceremony here: