What the Melisandre Reveal on 'Game of Thrones' Means For the Fate of Jon Snow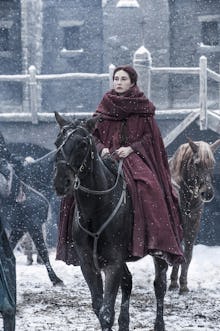 Editor's note: Season six Game of Thrones spoilers ahead.
Well, now we know why the season premiere of Game of Thrones was called "The Red Woman." After theorizing throughout the year how Jon Snow (Kit Harington) would be brought back to life, many turned to the mysterious red priestess Melisandre (Carice Van Houten) as the answer to fans' woes. Sure, she had a child burned alive at the end of season five, among other atrocious acts, but if she were to bring back Jon, some of this would be forgiven. 
Yet, the reveal at the end of the episode — that her true visage isn't young and beautiful, but instead an aging, centuries-old woman — leaves more questions than answers. The final scene of her removing her necklace, and slowly climbing into bed, is oddly human; we're shown a side of Melisandre obviously not seen before, otherwise Stannis (Stephen Dillane) might've had second thoughts about copulating with her. It was unexpected, though perhaps we all should've listened to the hints Van Houten had thrown out, having said her character was over 100 years old in a 2012 interview. 
Read more: This Could Be the Last Season We Get 10 Episodes of 'Game of Thrones'
But is this deception a sign that she's more powerful than fans have expected, or is she simply a fraud? The evidence of the series indicates somewhere in the middle. As promised when she leeched Gendry (Joe Dempsie), she brought forth the deaths of Robb Stark (Richard Madden) and Joffrey Baratheon (Jack Gleeson) — and in the books Balon Greyjoy (Patrick Malahide) is dead as well — but these circumstances can't directly be tied back to the Lord of Light's power. She did, however, get under Jon's skin last season while trying to seduce him, using his dead lover's signature catchphrase to chilling effect. There's no way she could've known that without a bit of magic.
Conversely, she was convinced that Stannis was her savior, the prophesied warrior Azor Ahai, and that he'd reign victorious against the Boltons. We know how that went, and how quickly she was willing to abandon him when she knew he'd be defeated. She also seemed perplexed at seeing Jon's dead body in the premiere, saying she had seen visions of him riding into battle at Winterfell. Suffice to say, she didn't expect him to die, and wasn't immediately confident in restoring him back to life as the fan's had hoped.  
Still, this is a character that literally drank poison and was fine, presumably because of the same necklace that keeps her looking young. She's still the show's best hope at bringing Jon back to life, and there's little reason to believe that won't be the case. The showrunners have gone to great lengths to suggest that the character is dead, and yet Harington is still in the opening credits, and it's hard to imagine that credit is doled out solely because his corpse is in the backdrop of several scenes at Castle Black. 
Moreover, if she has the power of life after death, being centuries old, could this be something she can pass onto another person? At the very least, we've seen the Lord of Light bring people back to life before. Even if she isn't always on point with her visions, the Red Woman isn't a complete fraud. For Game of Thrones fans, that's still enough hope for Jon, ahead of the next episode.