Donald Trump Unloads After Ted Cruz and John Kasich Form Unity Pact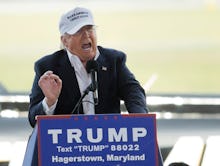 Republican presidential frontrunner Donald Trump lashed out at rivals Ted Cruz and John Kasich late Sunday and early Monday, after it emerged that the pair were strategically uniting to form a Stop Trump alliance in the remaining primary contests.
The background: The Cruz and Kasich campaigns announced the alliance late Sunday night, aiming to prevent Trump from winning the 1,237 delegates required to clinch the GOP nod before the party convention in Cleveland this July.
Under the terms of the agreement, Cruz will focus his resources on winning the May 3 Indiana primary, while Kasich will hone in on Oregon, which votes on May 17, and New Mexico, where voters head to the polls June 7.
Read more: RNC Chairman Reince Priebus Downplays Fears of Convention Chaos at Spring Meeting
With 12 other nominating contests outstanding, it remains unclear how the Cruz and Kasich campaigns will divvy up their resources in states beyond those three, but the pact represents a significant development in the monthslong effort to thwart Trump's nomination.
"Having Donald Trump at the top of the ticket in November would be a sure disaster for Republicans. Not only would Trump get blown out by Clinton or Sanders, but having him as our nominee would set the party back a generation," Cruz campaign manager Jeff Roe said in a statement.
Trump isn't having it: The frontrunner's response was swift — and severe.
In a series of tweets, Trump framed the alliance as an act of "weakness" and "desperation," reviving his "Lyin' Ted" moniker for Cruz and noting that Kasich has only won a single nominating contest — the primary in Ohio, where Kasich is the governor.
Steamrolling anyway? Trump's Twitter tirade comes ahead of what's expected to be a robust performance in Tuesday's five primary contests.
Polls show Trump with wide leads in Pennsylvania, Maryland, Connecticut, Delaware and Rhode Island, suggesting that the Trump Train will gain more steam after zooming past Kasich and Cruz in last week's New York primary.