Thanks to a Lemon Bra, Beyoncé Fans Think Rita Ora May Be "Becky With the Good Hair"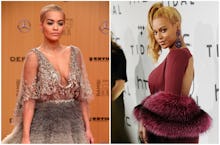 Over the weekend, Beyoncé sent the internet into a tizzy over a single line in "Sorry," her scorching new song about infidelity off her new album Lemonade. "He only want me when I'm not there / He better call Becky with the good hair," she sings. 
Because of a poorly-planned Instagram post mentioning "good hair," fashion designer Rachel Roy was the first woman rumored to be this "Becky," who may or may not have had a tryst with Beyoncé's husband Jay Z. 
Read more: With 'Lemonade,' Beyoncé Has Already Secured 2016's Album of the Year
Now, to others, it may actually be B-level-at-best pop star Rita Ora who may be the "Becky" in question. Earlier in April, Ora posted a Snapchat of herself wearing her new lingerie line, and one of the pieces was a risqué bra with lemon appliqué covering the nipples. 
The fact that she was wearing a necklace that looked like the letter "J" probably didn't help either. 
It's a stretch, sure, but some fans have been trying to dig deep into who this rumored Becky could be, and Ora has worked closely with Jay Z in the past. She's signed to his Roc Nation label, and is currently going through a bit of a legal battle with the record company. She's also previously been one of the names circling around Jay Z's alleged infidelity, but has spoken out on not being the woman in question. In one interview, when she was asked if she had ever had an affair with Jay Z, she was quoted as saying, "Don't you dare disrespect Beyoncé like that ever again in your entire life. You should know better than that." 
It's also timing that's the real issue here. Ora posted the infamous lemon snap on April 21, days before Beyoncé released the film and album on April 23. Sure, her Lemonade HBO special was still rumored at the time to be an album, but this would have to mean that Ora caught wind of the reference before the album dropped and we... don't think she has that level of fame just yet. 
An Adidas collaboration? Sure. An exclusive listen to Beyoncé's surprise album? Not quite there yet. 
But that hasn't stopped the Beyhive from invading Ora's Instagram. Scroll through the last three weeks of her pictures and almost every comment either has a lemon emoji or a bee emoji, a sure sign of a Beyhive invasion.
The question at this point is will we ever know who this Becky is, and what she and Jay Z really did? Probably not, given that Beyoncé is a near expert at keeping her private life private. After all, she's gotten away with two surprise albums and films at this point, so don't expect her to write a memoir or blog post naming names. 
She's too busy for that anyway.