16-Year-Old Trans Boy Ejected From Ted Cruz Rally in Maryland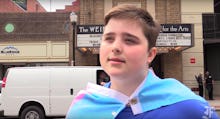 Sixteen-year-old transgender boy James Van Kuilenberg says event staff at a Maryland rally for Texas Sen. Ted Cruz removed him from the event because of his gender identity, the Frederick News-Post reported. 
In a YouTube video accompanying the report, Van Kuilenburg told the News-Post he was allowed into the Thursday morning event after he showed his ticket. But not long into the rally, event staff tapped him on the shoulder, misgendered him and asked him to leave, Van Kuilenberg said. 
Van Kuilenberg attended the rally to "represent the LGBT youth who are hurt by his propaganda and rhetoric." Prior to entering the event, Van Kuilenberg stood outside with a sign that read "Human rights are not up for debate." Kuilenberg said he left the sign outside before entering the event space. 
Van Kuilenburg said staff at first did not say why they wanted him to leave, then claimed he was trespassing because he was part of a peaceful protest outside. 
"The fact that I'm thrown out based on my identity is ridiculous," Van Kuilenburg said to the Frederick News-Post. Van Kuilenburg attended the Cruz rally to show Cruz and his supporters that his anti-transgender rhetoric has real effects on real people. 
Van Kuilenburg's mother said she was proud of her son for challenging Cruz, who has stepped up attacks agains trans people in recent weeks. 
"A lot of people who sat in here have interacted with transgender people and not even known it," she told the News-Post. "And maybe they needed to see that there are transgender teenagers, to put a face on them."
Cruz recently released an ad depicting trans people to predators and has made transphobic jokes.
On Sunday, Van Kuilenburg posted an audio recording of the exchange between him and event staff on Facebook, which confirms Van Kuilenberg's version of events. 
The Cruz campaign did not immediately respond to a request for comment on Monday morning.