Reports of Slut Shaming and Harassment Surface After Firefighter Takes Her Own Life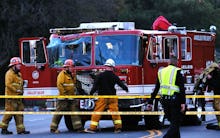 Last Thursday, the body of missing firefighter Nicole Mittendorff was found in Shenandoah National Park. According to local news station WHSV, police found a note near the deceased and determined that Mittendorff had committed suicide. 
Following the discovery of Mittendorff's body, investigators found that she had been the victim of vicious, sexist cyberbullying by her coworkers on a local forum called the Fairfaxunderground. "A new tramp emerges for us to watch destroy herself. Nicole Mittendorff at 32 is already slutting her way around the county, " one user wrote. 
On Saturday, fire Chief Richard Bowers released a statement saying that the authorities are aware of the posts, and the department "will thoroughly investigate this matter and take any appropriate actions needed."  Mic reached out on Monday to see if there are any specific plans to address sexism in the firehouse, and was told the administration has "no further comment" beyond Bowers published statement. 
This Virginia fire department has a history of slut shaming female coworkers, often naming and discussing specific coworkers on this forum. Back in 2014, a female forum user who went by the username funtimegal shared her experience of being sexually harassed in the predominantly male culture of the local fire department. 
"I have been a firefighter for 15 years," funtimegal wrote. "I know guys talk behind my back and have seen pictures of me in their lockers. I have been passed up for promotions because of what the board 'have heard'."
The kind of bullying Mittendorff faced isn't unique to the Fairfax County Fire Department. Former California firefighter Alicia Dabney told the New York Times that her workplace had a "frat boy atmosphere" and described finding fliers with the words "Alicia Dabney is a whore" on the floor of the fire station. 
Retired deputy fire chief John Murphy in Washington has been outspoken about the need to address misogynistic firehouse culture across the country. "There's a feeling that women don't belong in the fire service," Murphy said in a phone interview. "There are a lot of women who are sexually harassed, bullied and raped on duty who don't report it because they want to continue their jobs... there needs to be an anonymous reporting mechanism, for people who are harassed, that will actually lead to action to stop that behavior." 
From assault to bullying, Murphy believes many firefighters are afraid to report workplace sexism because they don't think they'll get help. "Often when it is reported, the administration doesn't do anything about it," he says.
Murphy believes the firehouse culture is still a "good old white boys club," where women, people of color and LGBTQ firefighters often face hostile work environments. "I'm familiar with two or three gay firefighters and it took them a while to find a place where they weren't harassed," Murphy said. "There's an attitude of 'you need to find somewhere else to work.'" 
It's unclear whether harassment was a contributing factor in Mittendorff's decision to take her own life. Either way, however, Bowers denied to WHSV that the fire department offered a hostile, potentially sexually abusive environment for female coworkers.
"I assure you that my department cannot and will not tolerate bullying of any kind," he said. 
h/t WHSV