Rachael Ray's 'Lemonade' Experience Was Slut-Shamier Than Yours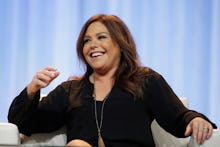 Get the five stories that will challenge you to rethink the world by signing up for MicCheck Daily.
Some confused members of the BeyHive are hating hard on Rachael Ray — and it has nothing to do with a botched 30-Minute Meals recipe. 
With suspicions thrown out in Beyoncé's new album, Lemonade, that husband Jay Z cheated on the singer with one "Becky With the Good Hair," a lot of fans have surmised that the paramour in question could in fact be fashion designer Rachel Roy.
But in the chaos, some inadvertently conflated Roy and the celebrity chef.
Read more: Rachel Roy's Instagram and Wiki Page Are Being Hijacked by Beyoncé's BeyHive
Look, BeyHive, if Rachael Ray ever did anything juicy with Jay Z, it was probably preparing a damn turkey to go into the oven. And while you're at it, as an apology, give 30-Minute Meals a shot.
You should be ashamed of yourself, internet. If you absolutely must drag Ray, do it for the fact that she coined both "EVOO" and "yum-o." Or for her line of "garbage bowls" (it's a bowl, Rachael... it's a bowl).
Otherwise, check your facts.