Bill Cosby, Chris Brown and Isis Open Up About the Burden of Having an Infamous Name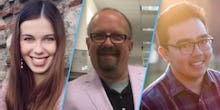 Bill Cosby is not a serial rapist. At least, not this Bill Cosby, a 54-year-old Toys R Us manager from La Porte, Indiana, who got a rude surprise when the comedian who shares his name imploded under the weight of a rape scandal allegedly involving dozens of women. 
According to Cosby, when people get past their initial shock over his name — he said he was named after a family friend before the other Bill Cosby was beamed into people's living rooms — most people now offer words of condolences, which the toy store manager said he takes in stride. "I just respond, 'Well, if you want I'll take you out for a drink,'" he said by phone. 
And so it goes for the company of seemingly ordinary people who share names with the world's most infamous personages — so infamous that they become nearly synonymous with their transgressions. Some, like Cosby, started out anonymous and then had their names thrust into the national spotlight later on. The phenomenon extends far beyond Bill Cosby, encompassing the world's other Rachel Dolezal, the eminent Dr. Donald Trump and about six Charles Mansons — all of whom declined or did not return inquiries to speak to Mic. 
Sharing names, of course, is hardly uncommon. According to the website Pipl.com, dozens of other unknown Bill Cosbys are out there peppered across the country from California to Oklahoma to Florida. For some, having a famous name can actually be more of a blessing than a burden. In 2012, those lucky enough to be named Don Draper, the iconic character from AMC's Mad Men, could enjoy a free night at a Howard Johnson hotel, NPR reported. 
Even before Cosby, a jocular Detroit-native, got caught up in the other Cosby's bad behavior, he recalled a long life of chortling from amused bystanders. "People were shoving jello pudding pops in my face [growing up]," he recalled. "It didn't help that I was oversized; I was a chunky little boy." 
What about when your name is literally shorthand for international terrorism? Isis Fabian's identity took an unwelcome turn from Egyptian goddess to her new incarnation as the head-chopping, slave-running, ruin-smashing terrorist organization also known as the Islamic State group. The group, most commonly known in the United States as ISIS, has become infamous for taking credit for deadly attacks committed in Brussels, Belgium; Paris and San Bernardino, California. 
Fabian, a 23-year-old recent graduate from New York University said people were often caught completely off-guard when they first met. "It's just interesting to see this total lack of awareness around what is and is not appropriate to say," Fabian said by phone. 
Fabian described an unpleasant encounter at a bar when a man told her that her name made her "the most unmarketable girl in Manhattan." Fabian, however, called the event an outlier. 
"That stands out in my mind as a really negative thing," she said. "I actually get a lot of people who say, 'Wow that's a beautiful name, that's an Egyptian goddess.'"
Fabian, however, had a resolute message for the haters. "If I change my name, the terrorists win." 
Another seemingly ordinary American who shares a now-infamous name is 22-year-old Vassar student Chris Brown. Like Cosby before him, the association was initially positive. "That was kind of cool for a little," he said by phone, adding that he spent much of his pre-college years fending off requests for impersonations of the other Chris Brown. "But that kind of changed a lot after the whole incident with Rihanna happened."  
For anyone unaware, the "incident" Brown was referring to is the act of domestic violence the other Chris Brown committed toward his then-girlfriend, the singer Rihanna, in 2009. 
"It made me feel really, really uncomfortable," said Brown, who recalled actively looking to be called "Christopher" as Chris Brown outrage swept the media with each new controversy. "I didn't want my name to be associated with someone who is known for physically harming women in such a public way."
Read more: I Went Under the Sheets of New York's Professional Cuddling Industry — Here's What I Found
Both Cosby and Brown were adamant that they would reject any and all calls to change their names to appease others, and for Brown at least, the strategy appears to be working. "Now the connotation is like, 'You're the good Chris Brown,'" he said. "It's a part of my identity."