Woman Shuts Down Tinder Match Who Told Her She'd Look Prettier if She Bleached Her Skin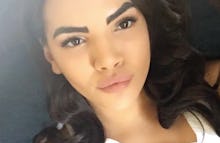 Earlier this month, 22-year-old Australian Takara Allen took to Facebook to share a racist text from a Tinder match that suggested Allen should bleach her skin because she would "look so pretty" if she were "whiter." The guy prefaced his text with, "Don't think I'm a creep and I don't wanna be offensive or anything."
Allen's now-viral post addressed notions about beauty standards and systemic racism. She wrote, "What goes on in people's heads that makes them think this is okay to say to someone? As if people of color don't already struggle enough with the pressure to conform to a Eurocentric beauty ideals and standards, people like this add even more."
Allen said in her post that she's familiar with hearing comments like these. "I've grown up hearing 'You'd be prettier if you were lighter' and 'You're pretty for a black girl,' as if black women are just generally unattractive, and so it's a surprise when one of us is," she wrote, adding that people are constantly asking her about being biracial, "as if black can't be beautiful on its own."
In a later second Facebook post, Allen said that she received responses from white men telling her she's "too outspoken" and an "attention seeker for speaking about issues that affect me as a black female and more specifically just as a female in general."
Then Allen went to Instagram to address commenters thinking the Tinder match's texts were fake and to talk more about skin bleaching. "People do get messages and are told things like what was said to me in REAL life. There are ads in most countries for skin 'brighten' 'whitening' and 'bleaching' and no, being told to get a tan is not the same as being told you would be more desirable if you bleach your skin because of a little thing called institutionalized and systematic racism," the caption said.
Skin bleaching works by reducing the skin's melanin pigment, but can cause skin cancer, premature aging and "poor wound healing," according to WebMD. 
Read more: This Model Just Reminded Us Why a Lack of Diversity Really Does Matter