Singapore Is Covering Everything With Sensors and Cameras to Create the City of the Future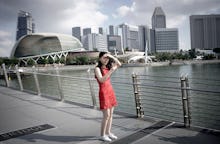 The government knows there's big promise in big data. Sensors and cameras can help officials monitor everything from litter to traffic to crime. 
Singapore is in the process of rolling out one of the biggest city data projects to date, according to the Wall Street Journal. The city-state first announced its initiative, called Smart Nation, in 2014. The program is intended to solve a batch of urban dilemmas. 
"To tackle difficult urban challenges in areas such as healthcare and energy, we need to capture and analyze massive amounts of data, and use that situational awareness to take meaningful actions. It is exciting for us to be exchanging ideas with top leaders in this space. Our goal is to challenge ourselves to keep finding new ways to better use data to serve citizens of all ages," explained Steve Leonard, executive deputy chairman of Singapore's Infocomm Development Authority, in a statement. 
More surveillance, fewer problems? The city-state is already known for its stringent local laws.
Singapore is already working on camera systems that can tell if someone is breaking certain laws, such as smoking in an undesignated area or littering from tall buildings, according to the Wall Street Journal. But Smart Nation is designed for much more than catching miscreant smokers.
Singapore wants to use data gathered from an array of sensors to better understand problems like the spread of infectious diseases and how big crowds react to life threatening explosions. It also might use sensors to track some of life's minutiae. For instance, Smart Nation is considering putting sensors in public housing for the elderly, so that if a resident stops moving for a period of time, their family can be notified. 
Is it safe? "The big, big elephant in the room is protection of privacy and ensuring security," Singapore Minister on Foreign Affairs and Smart Nation Vivian Balakrishnan told the Wall Street Journal, adding, "We don't have the answers."
Though the agency is opaque on how privacy and security will be ensured, Smart Nation told the Wall Street Journal that it's not putting out sensors en masse. It's only deploying sensors for specific projects. It also says that user data will be anonymized as much as possible. Singaporeans seem content to trade access to their data in order to help build a superior city; Smart Nation sits well with citizens, according to the Wall Street Journal. 
Coming to a city near you? Earlier this year, New York City showed off its major public Wi-Fi initiative, which features 7,500 connected hubs that collect some local data in order to place advertisements. LinkNYC, in collaboration with the U.S. Department of Energy, Argonne National Laboratory and New York City, is also investigating how to harness smartphone sensors to gather data about a location, such as its traffic patterns. 
In addition to New York, London, Rio de Janeiro and Seoul are all peppering their cities with sensors in an effort to make them better places to live. In the U.S., Chicago is also dedicated to capturing city data. This year, the city installed 50 devices to track "climate, air quality, light, vibration, numbers of pedestrians or cars passing the node, climate and ambient noise," according to BackChannel. The big question is how local governments will track every bit of city life without invading citizen privacy.