Cleveland Agrees to Pay $6 Million Settlement to Family of Tamir Rice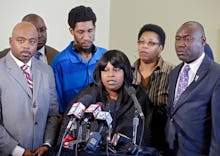 The city of Cleveland has agreed to pay $6 million to the family of Tamir Rice, the 12-year-old boy shot and killed by Cleveland Police Officer Timothy Loehmann in November 2014.
The settlement was announced Monday and it marks an end to the family's federal lawsuit against the city, which otherwise might have dragged on for years, according to Cleveland.com.
Loehmann shot Rice while the boy was playing with a toy handgun at the Cudell Recreation Center a few days before Thanksgiving 2014, fueling an already heated series of nationwide protests against anti-black police violence in the United States.
In December, a Cuyahoga County grand jury declined to file charges against Loehmann or his partner, Officer Frank Garmback, despite Rice being unarmed, despite the incident being captured on surveillance tape and despite Loehmann having displayed a history of dangerous incompetence on the job.
Since the shooting, there have been gross missteps from the city and the Cuyahoga County Prosecutor's Office. In February, Cleveland Mayor Frank Jackson apologized to the Rice family after the city sent them a $500 ambulance bill for transporting Tamir's body to the hospital.
Meanwhile, former Prosecutor Tim McGinty publicized information well before the case went to grand jury, suggesting the officers were justified in killing the boy. 
This marks the latest example of cities paying settlements to black families of police shooting victims. The family of Eric Garner, who died after being placed in a chokehold in July 2014 by New York Police Department Officer Daniel Pantaleo in Staten Island, New York, recently accepted a $5.9 million settlement from the city.
Police didn't face criminal charges Garner's case.
h/t Cleveland.com