The Beyhive Thinks Beyoncé's 'Lemonade' Is Better Than 'The Miseducation of Lauryn Hill'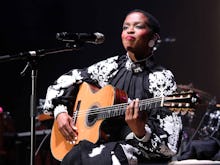 Beyoncé broke Twitter when she dropped Lemonade. No one was ready for the fierce, radical self-love-preaching, Jay Z ass-dragging Beyoncé it contained. It seems the Beyhive still hasn't recovered.
Monday, after Beyoncé's Lemonade was trending all weekend through various words, another R&B album full of subtly political love songs joined it on Twitter's trending section: Lauryn Hill's The Miseducation of Lauryn Hill. 
Read more: Nearly 20 Years Ago, Lauryn Hill Made an Album So Perfect It Nearly Ruined Her Life
The two albums are close kin, in that both represent the experience of black women in America over the most cutting edge instrumentals of their times. However, Twitter did not look like a celebration. It was more of a battleground, with many Beyoncé fans seemingly trying to argue that Beyoncé's Lemonade is superior to Hill's classic record. 
Everyone is feeling some type of way. This chaos is difficult for any music fan to view as an impartial observer. But penetrating to the heart of the matter, it seems harshest criticism of Miseducation came along one of four lines of attack. 
The reclusive Hill hasn't been able to produce a proper studio follow-up to the album.
She can't sing the album live.
The album is filled with respectability politics, and wasn't a picture of Hill's true character.
All these lines of reasoning drew sharp backlash.
Some users attempted to mediate and keep the conversation civil.
Others had no such interest.
The way tweeting fingers were still flying at the time of publication makes it seem like this argument will not end soon, or end well. For now, with regard to judging the quality of the two offerings, statues may speak louder than words — at least until next year's Grammy Awards, that is.