Drake Tweeted the First Photo of His New Album Cover — And the Internet Memed It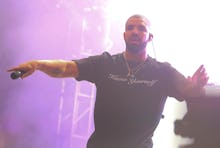 In the wake of Beyoncé's release of her visual album Lemonade Saturday evening, Drake has finally made the artwork for his upcoming album, Views From the 6, public. "To the city I love and the people in it," Drake wrote in a Twitter post, referencing his home city of Toronto. "Thank you for everything. Views."
However, it took approximately .000006 seconds (more or less) for Twitter to reimagine the image of Drake atop the CN Tower, the landmark in Toronto shown in the artwork. One user seemingly edited images of Drizzy sitting atop Tom's Restaurant, a famous landmark known for its recurring appearance in the TV sitcom Seinfeld, while another placed the rapper on top of Beyoncé's head.
Read more: Drake Announces 'Views From the 6' One-Day Pop-Up Shop Surprise for New York City
Views From the 6 will be available Friday on Apple Music. This will be the OVO rapper's first studio album since his 2013 project, Nothing Was the Same.