This Transgender Teen Wasn't Allowed to Walk as Herself at Her High School Graduation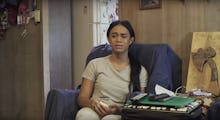 A Hawaiian transgender teen says she wasn't allowed to walk as a woman during her high school graduation ceremony. Jennea Purcell told KITV she stepped into her principal's office at Kahuku High and Intermediate School in Honolulu seeking a second affirmation she would be allowed to wear a women's gown during her graduation ceremony, ABC reported. The 18-year-old transgender student says she was denied the option to wear the same white gown as the rest of the girls she'd be graduating with. A Change.org petition started by the Kumu Hina Project now has close to 2,500 signatures in support of Purcell. 
"Every student has the right to equal access to educational opportunity," the petition page noted. "But several recent incidents, including the denial of a transgender student's desire to walk in the girls' gown at the Kahuku High School graduation, demonstrate that the Hawaii Department of Education has failed to protect the rights of transgender and gender-nonconforming students by not establishing an appropriate policy, neglecting to educate and train staff and ignoring existing civil rights statutes."
The Kumu Hina Project is a film collective focused on spreading awareness of gender diversity and inclusion through a film project. The group also shared a video of Purcell speaking out about the ordeal. 
"I tried to get a white gown, which is for females, and the red gowns is for the males. I tried to get the white gown, and Ms. Masaniai [the school principal] wasn't OK with that," Purcell says in the video, at times crying about not being able to participate in a ceremony that most high school students look forward to throughout their entire educational careers.  
The petition demands the Hawaii State Department of Education establish diversity initiatives focused on training staff on gender identity and expression, as well as providing all students the ability to "live authentically."
The department, which opened an investigation into Purcell's claims, has told ABC it believes the accusations are false.
Read more: This Dad's Epic Takedown of Anti-Trans Bathroom Laws Is Going Viral