Prince's Final "Purple Rain" Performance Is a Legendary Swan Song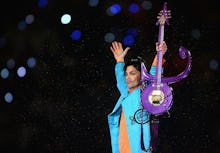 Fans in the audience had no way of knowing it at the time, but when Prince sang "Purple Rain" at Atlanta's Fox Theatre on April 14, it was his swan song. One day after the pop icon's death on Thursday, Us Weekly shared video footage of his last in-concert performance of the classic.
Read more: The 7 Wildest Prince Stories That Make Us Miss Him Even More
"He sang well and was emotive and just incredible, of course," one attendee told the magazine. "He didn't seem unwell." 
However, TMZ reported the singer's private plane was grounded in Moline, Illinois, just a few days prior to his passing. The gossip site reported Prince received emergency treatment for a drug overdose — of Percocet, a painkiller — although his reps have attributed the singer's recent health problems and show cancellations to the flu. There's no word yet on the cause of the artist's death.
Watch Prince sing the most princely of Prince songs in full for the final time, here.