Tsunami Caused by Meteor Impact Off East Coast Was Actually Routine Buoy Maintenance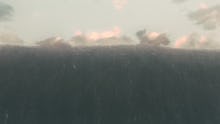 A buoy-mounted measuring device Sunday recorded an 88-foot drop followed by a sharp, a 180-feet rise in sea levels off the coast of Long Beach Island, triggering observers to speculate the event was a localized tsunami caused by a meteor impact.
Texas Tower No. 4 Station 44066 went into "event" mode, signifying a rapid change in local conditions. According to WCAU in Philadelphia, other theories for the Interstellar-esque wave included an earthquake off the coast of Punta Cana, Dominican Republic 10 minutes later.
However, by Monday it became clear the event measured by the station never actually occurred.
The National Data Buoy Center told WCAU that workers were performing "routine maintenance" on the buoy when the fluctuation in measured ocean levels went out. Normally the devices are deactivated during annual maintenance to prevent false alarms, but in this case the station was left online and transmitting for an unknown reason.
"The Bottom Pressure Recorder (BPR) has a tsunami detection algorithm on board that places the tsunameter in Event Mode," notes the buoy center's website. "Event Mode provides data more frequently — an initial 4 minutes of 15-second with one-minute averaged data for the hour before and the three hours after going into Event Mode. Not every Event is a tsunami ... It requires expert analysis to determine a tsunami from the tsunameter data."